Your guide to protecting your airbnb in Arlington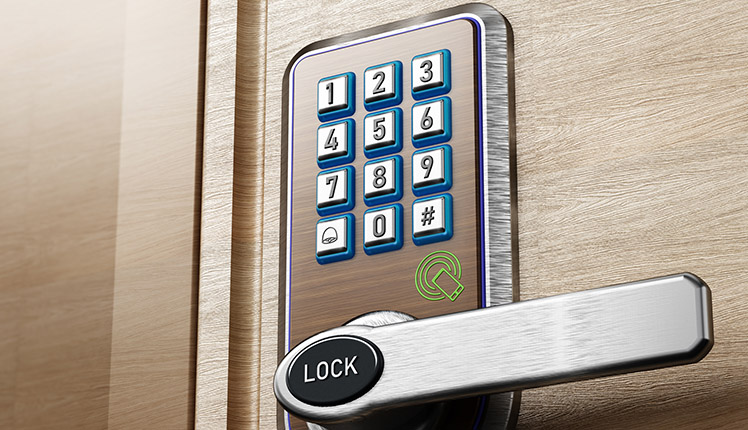 Whether you sublet the family lake house or you run a diverse portfolio of Airbnbs, it's often difficult to protect your rental properties in Arlington. With physical keys passing through multiple guests, it's simple to worry about vanishing items or past renters showing up unexpectantly. Not to mention, what would you do when there's an emergency like a fire at your rental unit while you're offsite?
From enhanced locks to comprehensive security with home automation, here are some top recommendations on how to protect your Airbnb in Arlington.
Smart door locks eliminate key copies
When a guest moves on, they may follow your instructions and provide the keys for the ensuing occupant. On the other hand, if someone took or secretly made copies of a key, it would be possible to sneak back in later. Of course, you have the option to replace your locks if a key is lost, but that takes time and money.
Fortunately, you are now able to put in smart door locks that function along with your home's security to alleviate these worries. Then, you can give every guest their personalized access code. When tenants check out, there's no reason to mess with an exchange of keys. You can simply customize the door code to no longer work when they vacate the property. If past inhabitants come back and try their old code on the door, you will receive a notification of the failed attempt on your mobile device.
Home automation makes empty properties appear occupied at all times
Of course, you hope that your Arlington rental property will have a steady flow of renters, but that isn't likely to always be the case. Nevertheless, you always want to give an impression that people are present so your Airbnb isn't an easy mark for thieves. Installing home automation into your property's security allows you to take advantage of smart light bulbs, motion detection devices, and video cameras that make your lodging appear occupied.
Begin by programming your smart lighting to turn on at specific hours of the night. Then, use your cell phone app to warn you if your video cameras notice an intruder hiding in the shadows or walking toward the front door. You have the opportunity to employ the two-way audio feature to make them know you're watching or program your smart lights to automatically illuminate when a camera or motion detection equipment identifies suspicious activity.
Protect your Arlington rental property with 24/7 monitoring
Your renters will be more relaxed if they feel protected from intruders, particularly when Arlington is unfamiliar territory. If a thief attempts to invade your property, your security system will not only initiate the alarm siren but will also notify your 24-hour monitoring team. Regardless of your location, help will be dispatched. Your monitoring specialists will even act as your point person and loop you in whenever you're free.
Along with home invasions, your monitoring team can link to fire alarms, flood sensors, and CO detectors. It can be harrowing for your guest if a water heater springs a leak or a fire erupts. You not only will get a cell phone alert that an emergency has happened, but an agent is also able to authorize emergency services while you're en route.
Order your new home security system in Arlington
The best way to protect your Arlington rental property is to get the latest in home protection. Thankfully, Vivint has options like smart light bulbs, smart entry locks, and 24-hour monitoring. Contact us today and our home security experts will help you customize a plan that makes sense for your rental. Call (703) 791-1576 or fill out the form to get started!
Areas Served Around Arlington By Smart Security Specialists Your Local Vivint Authorized Dealer